St. Vincent de Paul provides temporary shelter, emergency rent, transportation costs and utility assistance
By Ramona McCallister, Reporter
(photos courtesy of Ramona McCallister, CO reporter)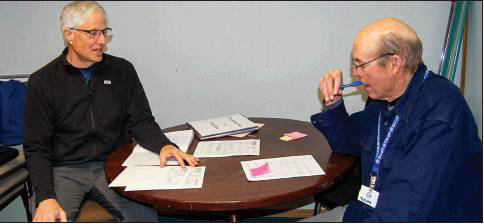 Charlie Kurtz, and Tom MacDonald of St. Vincent de Paul of Crook County, go over cases
for housing assistance on Wednesday afternoon. In the past 7.5 months, 78% of the assistance
they paid out was to help families stay in their homes and to pay for rent and utility assistance.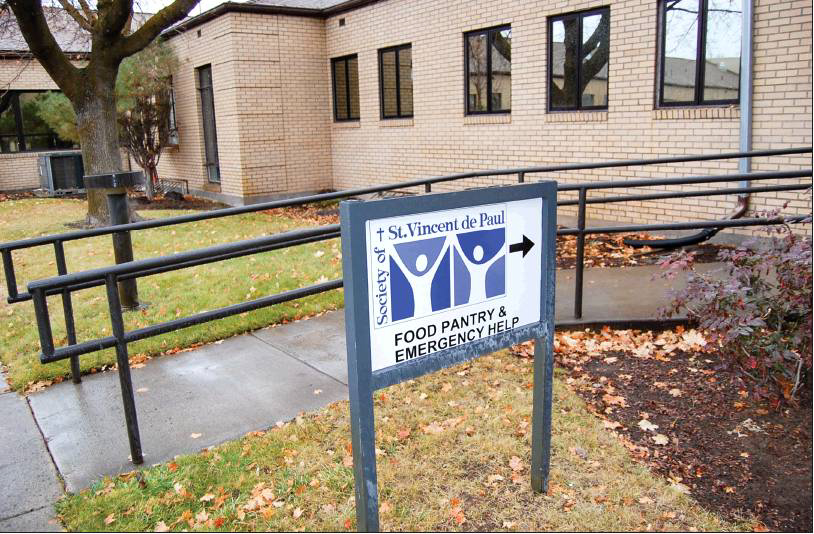 Read this article on the Central Oregonian website --
Despite better economic times, the number of individuals who need assistance to stay in their homes or to pay their heating bills is at a critical point this winter. St. Vincent de Paul serves a vulnerable demographic in Crook County, with the majority living on a fixed income, such as Social Security Disability, and less than 20% working full or part time. With a whopping 33% of its clients identified as homeless, the services that St. Vincent de Paul of Crook County provide also include temporary shelter, emergency rent, transportation costs and utility assistance.
They are the main point of contact in Crook County for people needing such services, and are often the last resort for those who find themselves displaced, unable to pay utilities or rent, or any number of circumstances that require emergency services.
Charlie Kurtz, president of St. Vincent de Paul of Crook County, said the nonprofit spent $12,500 in emergency assistance helping those in crisis with rent, utilities, transportation and emergency shelter in the last seven and a half months.
"The majority of our assistance, 78%, went toward keeping families in their homes by helping
them with rent or utility payments," said Kurtz. Of the clients St. Vincent serves in Crook County, 33% are homeless, 38% live in private rentals, 13% own their home, and 16% live in a mobile home.
"Folks we serve are one paycheck away from homelessness," said Kurtz. "We are their emergency backup." He added that this is taking into consideration those people who are already in rental units and then suffer an injury or any number of things that come along that prevent them from making their rent. He emphasized that in Prineville, eviction from a rental quickly becomes a crisis.
The reality of being at risk of losing your housing is more than a statistic. The circumstances vary, and Kurtz and his staff see the faces of these stories on a daily basis.  Brian is a single father of a 13-year-old son. His wife passed away from cancer several years ago. He injured himself in February 2019 and missed enough work to get behind on his rent payments. "I didn't know what to do, and I was worried I couldn't keep a roof over (my son's) head," Brian said. A friend referred him to St. Vincent de Paul, and he relayed his circumstances to Kurtz and why he was behind on his rent. St. Vincent De Paul of Crook County helped him pay his rent so he wouldn't lose his housing. "I had no idea that St. Vincent helped out at all," Brian said. "I happened to call (Kurtz) and he was very helpful. I don't know what I would have done without him."
"Affordable housing in Prineville is hard to find and precious to retain," said Kurtz. According to interviews with several clients, Kurtz said the average current monthly costs for housing are a stretch for many of his clients. They report that the starting cost is $400 for trailer space, $1,000 for a three-bedroom apartment and $1,500 for a three-bedroom house.
"Ten local churches help fund our emergency assistance program through monthly donations," he said. "We match their donations dollar for dollar. The current year's budget is $20,000, of which SVdP needs to raise $10,000. We expect the demand to be greater than our budgeted amount."
The only other point of contact for emergency assistance for rent and utilities is NeighborImpact, which serves Crook, Jefferson and Deschutes counties and the Confederated Tribes of Warm Springs. Their vision is to empower individuals and families to succeed and become engaged citizens in their communities. NeighborImpact has two main departments, including Homesource and Housing Stabilization.
According to Molly Heiss, director for housing stabilization for NeighborImpact Community Services, its energy assistance department has been busy. There are also cold weather shelters supported by NeighborImpact and run by Redemption House Ministries. Currently, Heiss said the nonprofit only has short-term rental assistance funds for veterans, regardless of their housing situation.
"They can be unhoused," she added. "They do need to provide us with documentation of military service and discharge status." She said there is also an uptick in other parts of Central Oregon.
"Every part of Central Oregon, including the Confederated Tribes of Warm Springs, is experiencing the burden of the increased cost of rental housing on our marginalized citizens with tight budgets," Heiss concluded. "This has been trending up over the years as our housing and utility costs continue to rise."
"This has been trending up over the years as our housing and utility costs continue to rise." — Molly Heiss, NeighborImpact